Welcome to the Suffolk 50 – 50 Exhibition
Showing at the Artspace Gallery Woodbridge from 22nd – 28th July 2021
To celebrate the 50th anniversary of the Suffolk Coast & Heaths Area of Outstanding Natural Beauty (AONB) local landscape photographer Gill Moon has coordinated a photography project which explores the different ways we respond, as photographers, to the same landscape. Taking part in the project with Gill are a group of amateur photographers who all attended one of Gill's photography workshops or photo walks in 2019.
The exhibition was due to take place in 2020 but due to two Covid-19 lockdowns we had to cancel and the exhibition has now been rescheduled for July 2021.
All 50 images will be available to view and purchase from this page in the run up to the exhibition. Most prints are 40cm  x 30cm but there are some square images which are 30cm x 30cm and some panoramic which are 50cm x 30cm.
All the images are available to order below with 10% of print sales donated to the Suffolk Coast & Heaths Area of Outstanding Natural Beauty (AONB) to help fund future projects.
The exhibition has been part funded by the Suffolk Coast and Heaths Community & Conservation Fund www.suffolkcoastandheaths.org
To find out more about the contributors and to see all the images please download the exhibition catalogue by clicking on the image below.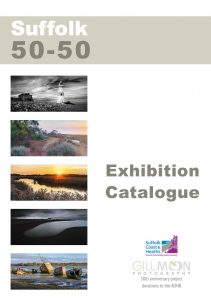 To purchase a print please click on any of the images in the gallery below. 
If you would like to come along and see the gallery exhibition, this will now take place between 22nd – 28th July 2021 at the Art Space Gallery in Woodbridge.
Please come along and see the images and talk to some of the photographers. 
Thank you very much for your support. 
50 images for 50 years of the Suffolk Coast & Heaths Area of Outstanding Natural Beauty (AONB)