Welcome to the 4 Seasons Stationery Club
The 4 seasons stationery club is a quarterly subscription giving you seasonal stationery from the Suffolk Coast.
Four times a year in March, June, September and December I will launch a limited edition box with a seasonal flavour. The contents of each box will only be revealed when the boxes are launched but each will include a 9″ x 7″ fine art print and a selection of greetings cards and postcards. Decembers box will also contain a Suffolk Coast Calendar.
The themes for each of the four boxes will be Spring, Summer, Autumn and Winter.
Alongside the stationery there will be an information sheet describing the locations and subjects depicted in the images plus a 10% discount card which can be used to purchase anything from gillmoon.com
As well as being an attractive reminder of the Suffolk Coast each box represents a substantial saving on the retail price of the items.
Individual boxes can be purchased for £20 or you can take out a subscription and get a box delivered to your door every 3 months.
The first box for 2017 is the Spring box. Inside this box you will find:
a signed 9″ x 7″ fine art print showing "Spring in Captain's Wood, Sudbourne" This is printed on a 100% cotton based matt fine art paper using giclee technology.
two 140mm square landscape cards depicting Southwold and Shingle Street
two 140mm square graphic landscape cards
two 140mm square floral cards
2 panoramic cards DL size depicting Woodbridge and Shingle Street
a 150mm x 150mm square postcard showing one of the Suffolk Coast Martello towers with the slogan "spring is in the air"
a detail sheet with information about the images featured in this months box
a 10% discount card for any product on gillmoon.com
Buy the Spring box for £20
Or subscribe to the 4 seasons club and get a box delivered every season.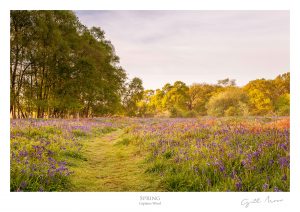 Greetings cards and postcard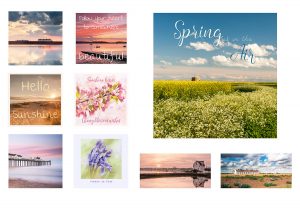 Buy all four boxes for £75