I have spent the last 10 years photographing Suffolk, its coastline, estuaries and countryside. In that time I have discovered a vibrant and beautiful place full of variety that touches my soul.
I have put together a series of 3 free booklets which are my attempt to share some of the beautiful places that I love, some will be familiar and others are perhaps less well known.
These booklets are intended as an introduction to photography in Suffolk and are by no means an exhaustive list of the best photographic locations.
The full set covers:
Part 1. Suffolk's Estuaries
Part 2. Suffolk's Coast
Part 3. Suffolk's Countryside
I hope that these guides will give a taster for the wonderful photographic opportunities available in Suffolk and encourage you to get out and explore this beautiful county for yourselves.
Photographing Suffolk – Part 1 – Suffolk's Estuaries
If you would like a free low res copy of this guide to download and keep please click the 'Download PDF' button under the guide image and submit your name and email address to access the guide download link.
Thank you.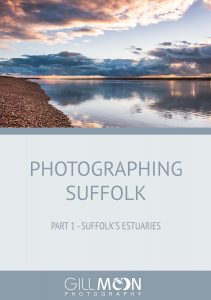 Part 2 – Suffolk's Coast
Coming soon