Over the last few years I have spent a lot of time photographing boats on the waters of the East Coast. This week I was asked to photograph some more, but this time instead of heading out on coastal waters I would be inside joining the students at the International Boatbuilding Training College (IBTC) in Lowestoft.
The atmosphere was relaxed and jovial as I wandered around the joinery workshop where the students were turning their hands to the production of wooden boxes which would eventually hold oil stones for sharpening chisels. It was a little like stepping back in time, there was no fancy machinery being employed just traditional hand tools and techniques used and practiced by generations of woodworkers. No hi tech equipment or labour saving devices here, this is where you come to learn how to turn a skill into craftsmanship.
The joinery room was full of classic woodworking tools; traditional vices, chisels, wooden mallets, old fashioned looking planes, carpenters set squares and rows of sash clamps – even the chalk board setting out the day's schedule seemed to originate from a bygone age.
Leaving the students hard at work I wandered into the first of two boatbuilding sheds where I found several vessels in various stages of construction. There were small dinghies and some much larger yachts, all undergoing restoration or repair. Gorgeous wooden hulls lined up in rows along the length of the shed, all immaculate and smelling of freshly sanded wood. Jigs and clamps and chalk marks the evidence of immaculate and slowly progressing work.
Upstairs the lofting room was a hive of activity with measurements being set out for two vessels. This is the room where small-scale plans are converted and drawn up into full size working patterns, the white floor essentially acting as a huge drawing board.
Not everything that goes on at the IBTC is geared towards the traditional as I found out when I visited another room where the students were on a Glass Reinforced Plastic or GRP course. Personally I preferred the smell of freshly sanded timber to the fumes from the plastic gel but it was easy to see the relevance of this particular method of boat building in todays world.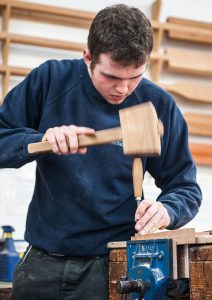 Joinery workshop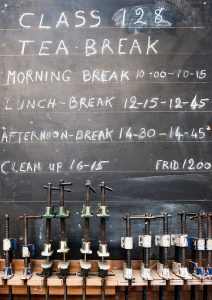 Class Schedule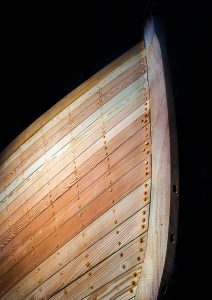 Boat hull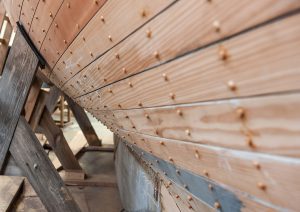 Boatbuilding shed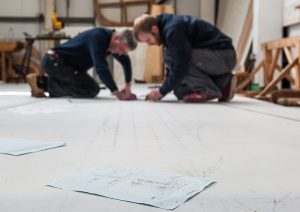 Lofting room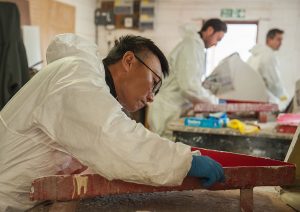 GPR workshop
5 tips for atmospheric images
Seek out details that tell a story
Think about lighting and use it to create impact and drama
Use a short depth of field to draw the viewer in and keep images imaginative
Try unusual angles
Experiment with a slow shutter speed to blur movement